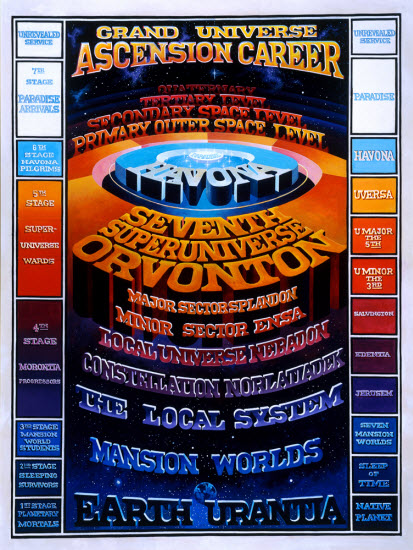 Is it possible that a kind, considerate, giving, moral, and intelligent friend or relative may not survive after death or "graduate" ?  Seems many Urantia Book Readers believe that "graduating" is pretty much automatic.  These passages are presented for those who wish to contemplate and decide for themselves what we may or may not need for a life after death.  Any comments would be helpful & welcomed.  Emphasis mine.
From the Urantia Book, also known as the "White Stone", Revelations 2:7, new name = "Urantia":
(1829.4) 166:3.7 Slowly the apostles and many of the disciples were learning the meaning of Jesus' early declaration: "Unless you are born again, born of the spirit (the Spirit of Truth ?), you CANNOT ENTER the kingdom of God."
(2054.3) 193:2.2 "Peace be upon you. You rejoice to know that the Son of Man has risen from the dead because you thereby know that you and your brethren shall also survive mortal death. But such survival IS DEPENDENT on your having been previously born of the spirit of truth-seeking and God-finding. The bread of life and the water thereof are given ONLY to those who hunger for truth and thirst for righteousness — for God. The fact that the dead rise is not the gospel of the kingdom.
(1162.1) 106:0.1 IT IS NOT ENOUGH that the ascending mortal should know something of the relations of Deity to the genesis and manifestations of cosmic reality; he should also comprehend something of the relationships existing between himself and the numerous levels of existential and experiential realities, of potential and actual realities. Man's terrestrial orientation, his cosmic insight, and his spiritual directionization are all enhanced by a better comprehension of universe realities and their techniques of inter-association, integration, and unification.
(1731.1) 155:6.3 I have called upon you to be born again, to be born of the spirit. I have called you out of the darkness of authority and the lethargy of tradition into the transcendent light of the realization of the possibility of making for yourselves the greatest discovery possible for the human soul to make — the supernal experience of finding God for yourself, in yourself, and of yourself, and of doing all this as a fact in your own personal experience. And so may you pass from death to life, from the authority of tradition to the experience of knowing God; thus will you pass from darkness to light, from a racial faith inherited to a personal faith achieved by actual experience; and thereby will you progress from a theology of mind handed down by your ancestors to a true religion of spirit which shall be built up in your souls as an eternal endowment.
(1570.2) 140:3.1 Then Jesus spoke, saying: "Now that you are ambassadors of my Father's kingdom, you have thereby become a class of men separate and distinct from all other men on earth. You are not now as men among men but as the enlightened citizens of another and heavenly country among the ignorant creatures of this dark world. It is NOT ENOUGH that you live as you were before this hour, but henceforth must you live as those who have tasted the glories of a better life and have been sent back to earth as ambassadors of the Sovereign of that new and better world. Of the teacher more is expected than of the pupil; of the master more is exacted than of the servant. Of the citizens of the heavenly kingdom more is required than of the citizens of the earthly rule. Some of the things which I am about to say to you may seem hard, but you have elected to represent me in the world even as I now represent the Father; and as my agents on earth you will be obligated to abide by those teachings and practices which are reflective of my ideals of mortal living on the worlds of space, and which I exemplify in my earth life of revealing the Father who is in heaven.
(1130.6) 103:2.1 Religion is functional in the human mind and has been realized in experience prior to its appearance in human consciousness. A child has been in existence about nine months before it experiences birth. But the "birth" of religion is not sudden; it is rather a gradual emergence. Nevertheless, sooner or later there is a "birth day." You DO NOT ENTER the kingdom of heaven unless you have been "born again" — born of the Spirit. Many spiritual births are accompanied by much anguish of spirit and marked psychological perturbations, as many physical births are characterized by a "stormy labor" and other abnormalities of "delivery." Other spiritual births are a natural and normal growth of the recognition of supreme values with an enhancement of spiritual experience, albeit no religious development occurs without conscious effort and positive and individual determinations. Religion is never a passive experience, a negative attitude. What is termed the "birth of religion" is not directly associated with so-called CONVERSION EXPERIENCES which usually characterize religious episodes occurring later in life as a result of mental conflict, emotional repression, and temperamental upheavals.
(1774.6) 160:1.4 (Rodan) In a continually changing world, in the midst of an evolving social order, it is impossible to maintain settled and established goals of destiny. Stability of personality can be experienced only by those who have discovered and embraced the living God as the eternal goal of infinite attainment. And thus to transfer one's goal from time to eternity, from earth to Paradise, from the human to the divine, requires that man shall become regenerated, CONVERTED, BORN AGAIN; that he shall become the re-created child of the divine spirit; that he shall GAIN ENTRANCE into the brotherhood of the kingdom of heaven.
(381.1) 34:6.7 Those who have received and recognized the indwelling of God have been born of the Spirit. "You are the temple of God, and the spirit of God dwells in you." IT IS NOT ENOUGH that this spirit be poured out upon you; the divine Spirit MUST dominate and control every phase of human experience.
To be" Born Again":
(448.2) 40:6.5 All evolutionary worlds of mortal habitation harbor these faith sons of God, sons of grace and mercy, mortal beings belonging to the divine family and accordingly called the sons of God. Urantia mortals are entitled to regard themselves as being the Faith Sons of God because:
(448.3) 40:6.4 1. You are sons of spiritual promise, faith sons; YOU HAVE ACCEPTED the status of son-ship. YOU BELIEVE in the reality of your son-ship, and thus does your son-ship with God become eternally real.
(448.4) 40:6.5 2. A Creator Son of God became one of you; he is your elder brother in fact; and if in spirit YOU BECOME TRULY RELATED BROTHERS OF CHRIST, the victorious Michael, then in spirit must you also be sons of that Father which you have in common — even the Universal Father of all.
(448.5) 40:6.6 3. You are sons because the spirit of a Son has been poured out upon you, has been freely and certainly bestowed upon all Urantia races. This spirit ever draws you toward the divine Son, who is its source, and toward the Paradise Father, who is the source of that divine Son.
(448.6) 40:6.7 4. Of his divine free-willness, the Universal Father has given you your creature personalities. You have been endowed with a measure of that divine spontaneity of freewill action which God shares with all who may become his sons.
(448.7) 40:6.8 5. There dwells within you a fragment of the Universal Father, and you are thus directly related to the divine Father of all the Sons of God.
(1796.1) 162:6.3 . . .To every one WHO HAS FAITH shall this bestowal of the spirit (Spirit of Truth) become the true teacher of the way which LEADS TO life everlasting, to the true waters of life in the kingdom of heaven on earth and in the Father's Paradise over there."
(1682.4) 150:5.2 "When men and women ask what shall we do to be saved, you shall answer, Believe this gospel of the kingdom; accept divine forgiveness. By faith recognize the indwelling spirit of God, whose acceptance makes you a son of God. Have you not read in the Scriptures where it says, 'In the Lord have I righteousness and strength.' Also where the Father says, 'My righteousness is near; my salvation has gone forth, and my arms shall enfold my people.' 'My soul shall be joyful in the love of my God, for he has clothed me with the garments of salvation and has covered me with the robe of his righteousness.' Have you not also read of the Father that his name 'shall be called the Lord our righteousness.' 'Take away the filthy rags of self-righteousness and clothe my son with the robe of divine righteousness and eternal salvation.' It is forever true, 'the just shall live by faith.' Entrance into the Father's kingdom is wholly free, but progress — growth in grace — is essential to continuance therein.
(1683.2) 150:5.5 In summing up his final statement, Jesus said: "You cannot buy salvation; you cannot earn righteousness. Salvation is the gift of God, and righteousness is the natural fruit of the spirit-born life of sonship in the kingdom. You are not to be saved because you live a righteous life; rather is it that you live a righteous life because you have already been saved, have recognized sonship as the gift of God and service in the kingdom as the supreme delight of life on earth. When men believe this gospel, which is a revelation of the goodness of God, they will be led to voluntary repentance of all known sin. Realization of sonship is incompatible with the desire to sin. Kingdom believers hunger for righteousness and thirst for divine perfection."
(1819.3) 165:2.7 "And now, lest some of you too easily comprehend this parable, I will declare that I am both the door to the Father's sheepfold and at the same time the true shepherd of my Father's flocks. Every shepherd who seeks to enter the fold without me shall fail, and the sheep will not hear his voice. I, with those who minister with me, am the door. Every soul who enters upon the eternal way by the means I have created and ordained shall be saved and will be able to go on to the attainment of the eternal pastures of Paradise.
Missing The Boat:
(1828.5) 166:3.1 As Jesus and the twelve visited with the messengers of the kingdom at Gerasa, one of the Pharisees who believed in him asked this question: "Lord, will there be few or many really saved?" And Jesus, answering, said:
(1828.7) 166:3.3 "You also have another saying among you, and one that contains much truth: That the way which leads to eternal life is straight and narrow, that the door which leads thereto is likewise narrow so that, of those who seek salvation, few can find entrance through this door. You also have a teaching that the way which leads to destruction is broad, that the entrance thereto is wide, and that there are many who choose to go this way. And this proverb is not without its meaning. But I declare that salvation is first a matter of your personal choosing. Even if the door to the way of life is narrow, it is wide enough to admit all who sincerely seek to enter, for I am that door. And the Son will never refuse entrance to any child of the universe who, by faith, seeks to find the Father through the Son.
(1829.1) 166:3.4 "But herein is the danger to all who would postpone their entrance into the kingdom while they continue to pursue the pleasures of immaturity and indulge the satisfactions of selfishness: Having refused to enter the kingdom as a spiritual experience, they may subsequently seek entrance thereto when the glory of the better way becomes revealed in the age to come. And when, therefore, those who spurned the kingdom when I came in the likeness of humanity seek to find an entrance when it is revealed in the likeness of divinity, then will I say to all such selfish ones: I know not whence you are. You had your chance to prepare for this heavenly citizenship, but you refused all such proffers of mercy; you rejected all invitations to come while the door was open. Now, to you who have refused salvation, the door is shut. This door is not open to those who would enter the kingdom for selfish glory. Salvation is not for those who are unwilling to pay the price of wholehearted dedication to doing my Father's will. When in spirit and soul you have turned your backs upon the Father's kingdom, it is useless in mind and body to stand before this door and knock, saying, 'Lord, open to us; we would also be great in the kingdom.' Then will I declare that you are not of my fold. I will not receive you to be among those who have fought the good fight of faith and won the reward of unselfish service in the kingdom on earth. And when you say, 'Did we not eat and drink with you, and did you not teach in our streets?' then shall I again declare that you are spiritual strangers; that we were not fellow servants in the Father's ministry of mercy on earth; that I do not know you; and then shall the Judge of all the earth say to you: 'Depart from us, all you who have taken delight in the works of iniquity.'
(1829.2) 166:3.5 "But fear not; every one who sincerely desires to find eternal life by entrance into the kingdom of God shall certainly find such everlasting salvation. But you who refuse this salvation will some day see the prophets of the seed of Abraham sit down with the believers of the gentile nations in this glorified kingdom to partake of the bread of life and to refresh themselves with the water thereof. And they who shall thus take the kingdom in spiritual power and by the persistent assaults of living faith will come from the north and the south and from the east and the west. And, behold, many who are first will be last, and those who are last will many times be first."
(1829.4) 166:3.7 Slowly the apostles and many of the disciples were learning the meaning of Jesus' early declaration: "Unless you are born again, born of the spirit, you cannot enter the kingdom of God." Nevertheless, to all who are honest of heart and sincere in faith, it remains eternally true: "Behold, I stand at the doors of men's hearts and knock, and if any man will open to me, I will come in and sup with him and will feed him with the bread of life; we shall be one in spirit and purpose, and so shall we ever be brethren in the long and fruitful service of the search for the Paradise Father." And so, whether few or many are to be saved altogether depends on whether few or many will heed the invitation: "I am the door, I am the new and living way, and whosoever wills may enter to embark upon the endless truth-search for eternal life."
(1819.4) 165:2.8 . . . Verily, verily, I say to you, friends and enemies, I am the true shepherd; I know my own and my own know me.
(1638.5) 146:2.5 4. There is a basic law (Natural Law) of justice in the universe which mercy is powerless to circumvent. The unselfish glories of Paradise are not possible of reception by a thoroughly selfish creature of the realms of time and space. Even the infinite love of God cannot force the salvation of eternal survival upon any mortal creature who does not choose to survive. Mercy has great latitude of bestowal, but, after all, there are mandates of justice which even love combined with mercy cannot effectively abrogate. Again Jesus quoted from the Hebrew scriptures: "I have called and you refused to hear; I stretched out my hand, but no man regarded. You have set at naught all my counsel, and you have rejected my reproof, and because of this rebellious attitude it becomes inevitable that you shall call upon me and fail to receive an answer. Having rejected the way of life, you may seek me diligently in your times of suffering, but you will not find me."
(1445.2) 131:2.8 ". . .If you do not well, it is because sin lies at the door; men reap the evil they plow and the sin they sow. Fret not yourself because of evildoers. If you regard iniquity in your heart, the Lord will not hear you; if you sin against God, you also wrong your own soul. God will bring every man's work to judgment with every secret thing, whether it be good or evil. As a man thinks in his heart, so is he.
(1126:4) 102:7.4  True, many apparently religious traits can grow out of nonreligious roots. Man can, intellectually, deny God and yet be morally good, loyal, filial, honest, and even idealistic. Man may graft many purely humanistic branches onto his basic spiritual nature and thus apparently prove his contentions in behalf of a godless religion, but such an experience is devoid of survival values, God-knowingness and God-ascension. In such a mortal experience only social fruits are forthcoming, not spiritual. The graft determines the nature of the fruit, notwithstanding that the living sustenance is drawn from the roots of original divine endowment of both mind and spirit.
(1468.3) 133.0.3. . .Said Jesus: "Though human beings differ in many ways, the one from another, before God and in the spiritual world all mortals stand on an equal footing. There are only TWO GROUPS of mortals in the eyes of God: those who desire to do his will and those who do not. As the universe looks upon an inhabited world, it likewise discerns two great classes: those who know God and those who do not. Those who cannot know God are reckoned among the animals of any given realm.
The Phenomenon of Death
NON-SURVIVORS:
(1229.8) 112:3.1 Urantians generally recognize only one kind of death, the physical cessation of life energies; but concerning personality survival there are really three kinds:
    (1229.9) 112:3.2 1. Spiritual (soul) death. If and when mortal man has finally rejected survival, when he has been pronounced spiritually insolvent, morontially bankrupt, in the conjoint opinion of the Adjuster and the surviving seraphim, when such co-ordinate advice has been recorded on Uversa, and after the Censors and their reflective associates have verified these findings, thereupon do the rulers of Orvonton order the immediate release of the indwelling Monitor. But this release of the Adjuster in no way affects the duties of the personal or group seraphim concerned with that Adjuster-abandoned individual. This kind of death is final in its significance irrespective of the temporary continuation of the living energies of the physical and mind mechanisms. From the cosmic standpoint the mortal is already dead; the continuing life merely indicates the persistence of the material momentum of cosmic energies.  (Are there people walking around without Thought Adjusters ?)
    (1230.1) 112:3.3 2. Intellectual (mind) death. When the vital circuits of higher adjutant ministry are disrupted through the aberrations of intellect or because of the partial destruction of the mechanism of the brain, and if these conditions pass a certain critical point of irreparability, the indwelling Adjuster is immediately released to depart for Divinington. On the universe records a mortal personality is considered to have met with death whenever the essential mind circuits of human will-action have been destroyed. And again, this is death, irrespective of the continuing function of the living mechanism of the physical body. The body minus the volitional mind is no longer human, but according to the prior choosing of the human will, the soul of such an individual may survive.
    (1230.2) 112:3.4 3. Physical (body and mind) death. When death overtakes a human being, the Adjuster remains in the citadel of the mind until it ceases to function as an intelligent mechanism, about the time that the measurable brain energies cease their rhythmic vital pulsations. Following this dissolution the Adjuster takes leave of the vanishing mind, just as unceremoniously as entry was made years before, and proceeds to Divinington by way of Uversa.  (Automatic non-survival.  There doesn't seem to be any trial involved here.)
THE FAITH SONS & DAUGHTERS OF GOD:
(1230.3) 112:3.5 After death the material body returns to the elemental world from which it was derived, but two nonmaterial factors of surviving personality persist: The pre-existent Thought Adjuster, with the memory transcription of the mortal career, proceeds to Divinington; and there also remains, in the custody of the destiny guardian, the immortal morontia soul of the deceased human. These phases and forms of soul, these once kinetic but now static formulas of identity, are essential to repersonalization on the morontia worlds; and it is the reunion of the Adjuster and the soul that reassembles the surviving personality, that reconsciousizes you at the time of the morontia awakening.
(1230.4) 112:3.6 For those who do not have personal seraphic guardians, the group custodians faithfully and efficiently perform the same service of identity safekeeping and personality resurrection. The seraphim are indispensable to the reassembly of personality.
(1230.5) 112:3.7 Upon death the Thought Adjuster temporarily loses personality, but not identity; the human subject temporarily loses identity, but not personality; on the mansion worlds both reunite in eternal manifestation. Never does a departed Thought Adjuster return to earth as the being of former indwelling; never is personality manifested without the human will; and never does a dis-Adjustered human being after death manifest active identity or in any manner establish communication with the living beings of earth. Such dis-Adjustered souls are wholly and absolutely unconscious during the long or short sleep of death. There can be no exhibition of any sort of personality or ability to engage in communications with other personalities until after completion of survival. Those who go to the mansion worlds are not permitted to send messages back to their loved ones. It is the policy throughout the universes to forbid such communication during the period of a current dispensation.
Do these teachings leave you wondering about all the good people who haven't heard about Christ Michael/Jesus, don't acknowledge his leadership, don't care or just are "not interested".  Doesn't it seem that planetary evolution has a long way to go to before we will be able to automatically "survive" or automatically "graduate" ?  Seems we are still in the very early stages on the path to planetary "Light & Life".